Brian DeMaria is President and Broker of Quality Investments and Brokerage Inc. he moved to Pensacola in 1986 when he entered the real estate business and has been a broker since 1987. He founded Quality Investments & Brokerage Inc. in 1992. His areas of involvement have been in; Single family, multi-family, resort, subdivision, build-to-suit developments; investment and general brokerage. His sales since 2000 have been in excess of $170,000,000, and he has established a network of professionals to assist in the purchase, sale or development of properties.
Brian is a graduate of Texas A&M University; he holds a US Merchant Marine Masters License; is a member of the Pensacola and National Board of Realtors; a Paul Harris Fellow recipient; on the advisory board of Gulf Coast Community Bank and is active in community organization.
In his spare time Brian is also an author, and if interested you can learn more about his writings at: DeMariaBooks.com
We are pleased to have Jonathan Owens as part of our team.
As one of the area's top diversified real estate companies we are able to bring you a large inventory of EXCITING real estate opportunities:
Services
If you know what your needs are, let us do the leg work by providing you a list of options that are available. If you are unsure of your needs, let us help you determine what it is that you require.
Buyer Broker
Representing the buyer in locating properties that meet their needs
Tenant Representation
Representing the tenant in locating space to meet their needs
Development
The development of land and improvements to suit a buyer's or tenant's needs.
Management
Management and reporting of properties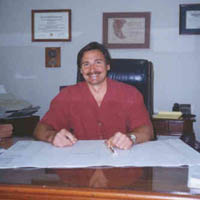 Brian DeMaria, President
If you know what your needs are, let me do the leg work in providing you a list of options that are available. If your unsure of what your needs are, I can help you determine more precisely what it is you are looking for.